Tech Tip: Do you already own Summit UAS
Current Summit owners: Do you already have Summit UAS?
If you are a current Summit Evolution owner, you may already have all – or at least most – of the capabilities of Summit UAS within your existing Summit license.
The key features of Summit UAS are:
The ability to open a Summit orthophoto feature collection project
The ability to use Terrain Following to control the Z coordinate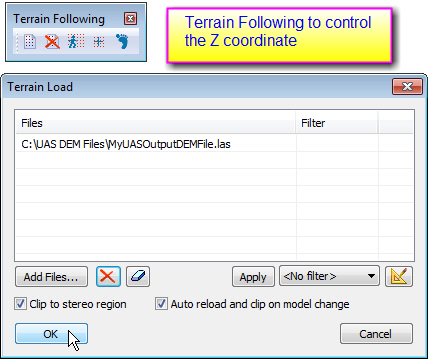 The availability of the DAT/EM Drawing Tools inside Summit

Summit Professional and Summit Feature Collection have all the capabilities of Summit UAS, plus much more. Summit Professional and Feature Collection can easily open any Summit project type, including an orthophoto project. With Professional and Feature Collection, you may choose between using the DAT/EM Drawing Tools or DAT/EM Capture, which collects vectors directly into AutoCAD®, MicroStation®, ArcGIS®, or Global Mapper®.
Summit Lite does not offer DAT/EM Drawing Tools, unlike Summit UAS; however, it does have DAT/EM Capture. If digitizing with DAT/EM Capture is what you want to do anyway, then you can use Summit Lite in place of Summit UAS.
With any edition of Summit, simply open the orthophoto project, activate Terrain Following, and digitize using either the DAT/EM Drawing Tools or DAT/EM Capture, whichever is available or desired.
Now that you know you can use your existing Summit license, you can go ahead and choose UAS imagery pre-processing software that creates a DEM and exports a Summit-format orthophoto project.
To learn more about Summit UAS visit www.datem.com/summit-uas.
You can share this story by using your social accounts: