Windows 10 Status Report (June 2016)
This is our final Windows 10 report. DAT/EM now accepts Windows 10 for modern video cards.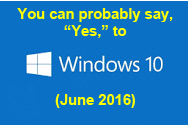 Probably yes, depending on your video card
The remainder of this article is the same advice that appeared in our our May 2016 Windows 10 status report:
Q: What should I do about the "Get Windows 10 for free" message on my computer?
A: Go ahead and download Windows 10. You will have the option to install now or later. Choose to install it later if you're still not sure.
DAT/EM can't guarantee success with Windows 10; it's really up to your video card model, nVidia, and Microsoft working together. We have found that the latest nVidia drivers work well for OpenGL with Windows 10 and modern video cards. Things to know:
For DAT/EM stereo applcations, use a video card that has OpenGL version 4.2 or higher. This is generally an nVidia Quadro 4000 or better/newer. We have not tested and do not intend to test any video card model that has an OpenGL version lower than 4.2. If you are still using a Quadro FX 3700 or Quadro FX 4800 or similar, we recommend you upgrade your video card regardless of your Windows 10 plans. Even the lower-end, modern 3DVision-compatible cards such as the K2200 and M2000 are far superior to those old cards.
For DAT/EM stereo applications, use nVidia 3DVision. We have not tested and do not intend to test Windows 10 with the older Planar dual screen displays or the very old ZScreens.
Keep Windows 10 Updates current, but turn off automatic video driver updates. See instructions below.
Manually install the latest nVidia driver for the video card. Find drivers at www.nvidia.com. Always install video drivers using the "Custom" and "Clean" installation choices.
If you apply Windows Updates and stereo suddenly quits, look for a newer video driver immediately. Install a newer driver as "Custom" and "Clean".
Q: How do I turn off automatic driver updates and other annoying defaults in Windows 10?
A: Here are a few links to help you:
Q: I miss the Windows 7 Start menu. Is there any way to make Windows 10 show a start menu?
A: Yes, use the third-party Classic Shell™ application: http://www.classicshell.net
Q: When will DAT/EM stop supporting Windows 7 and Windows 8.1?
A: We will stop supporting them the same day that Microsoft ends extended support for them, reported to be January 14, 2020 for Windows 7 and January 10, 2023 for Windows 8.1.
We welcome your report of your Windows 10 experience, either successful and unsuccessful. Let us know your video card model and type of display. Send your report to support@datem.com.
You can share this story by using your social accounts: