Tech Tip: WIN 10, Google Maps, Video Cards
By Alissa Oder
February's Tech Tip offers some topics that have come up often in the last few weeks:
1) Continue to just say, "No!" to Windows 10 (at least for now)
DAT/EM's "Just say, 'No'" position on Windows 10 continues, but there is a glimmer of hope. Until recently, there were no nVidia drivers for Windows 10 that would correctly and reliably display OpenGL stereo, which is required by DAT/EM Summit Evolution stereo projects.
On February 22, 2016, we received our first customer report of a properly working Windows 10 stereo setup. This customer had previously tried older drivers with Windows 10 and found that they did not work. The working setup is driver version 361.91 a single Quadro K5000m in a stereo-screen laptop model that is no longer manufactured, and in which stereo for Windows 8.1 always worked.
DAT/EM would like to have more success reports – including from our own testing on desktop computers and different video cards – before we can confidently recommend Windows 10.
At least for now (February 2016):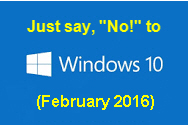 …at least for now.
2) Refresh Summit's Google Maps Tool in All Summit Versions
If you select Summit > Tools > Google Maps in any version of Summit, you may receive error messages. This is because Google Maps made a change, and DAT/EM's web-based code needed to be updated to work with it. The tool may need to be manually refreshed before it will work again.
If you are using any DAT/EM version and receive "Script Error" with Summit > Tools > Google Maps, refresh the tool as follows:
Do not move the Summit cursor.
The application is not locked up. Answer "No" many times (hold down the "N" key continuously) until the error messages are all closed.
Click the system mouse one time on the "Google Maps" window title bar. This ensures it is the Windows focus dialog.
Press the F5 key.
If F5 was not enough to prevent more "Script error" messages, open Internet Explorer (IE) and clear the cache. If you don't know how to clear the cache, launch Windows Start>All Programs>Internet Explorer, press F1 for Help, and search for "clear the cache" to find instructions for your IE version.
How to refresh the Google Maps window in all versions of Summit
3) New video cards may need a StarTech adapter
We repeat this information in an effort to prevent you from purchasing the wrong hardware. Recently nVidia replaced its K4200 video card with the M4000. This is a DAT/EM-approved card. Depending on the ports available on your monitor, you may need an adapter to connect it. The only brand and model of adapter DAT/EM recommends is the StarTech DP2DVID2 Display Port to DVI Dual Link Active Video Adapter Converter, DP to DVI-D – 2560x1600. Purchase this from your favorite computer parts marketplace or ask DAT/EM to process the order for you.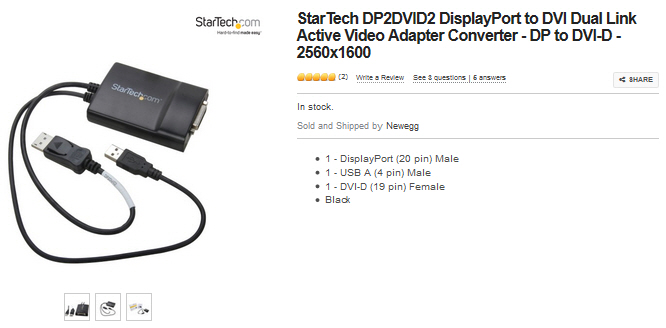 This is the only recommended adapter brand and model
4) DAT/EM Support asks for your help this time!
Do you have ideas for new DAT/EM tools or new DAT/EM products? Could we help solve a problem with functionality gaps in your current workflow? Perhaps you're thinking of providing a new geospatial product, but don't own the tools to do the work yet? Let DAT/EM know. We'd love to direct our research and development toward our existing users' needs.
Do you have a great project created with DAT/EM software that you'd like to highlight in a publication? We often have opportunities to provide case studies, articles, and screen shots of work done by our products. Providing these is a great way to make your company more visible and provides another result for your company in a web search. Contact us if you're interested.
---
You can share this story by using your social accounts: