Tech Tip: OS and Hardware Upgrade Tips and Image Compression
This month we have tips about two different topics:
Hardware purchases and upgrades.

Image compression advice from guest contributor, Thomas Widmer at Trimble.
Topic 1: Hardware Purchase and Upgrade Advice
Many of our customers are making the transition to Windows 10, and many are purchasing new laptops or desktop computers to use with their existing DAT/EM Summit Evolution stereo application. There are hardware considerations for both types of upgrades.
DAT/EM's hardware recommendations are here: http://www.datem.com/configurations/. If you need to diverge from those specifications, keep as close to the original as possible.
The DAT/EM support department spends a lot of its time troubleshooting with our customers who build custom computers and/or have  lower-than-recommended specifications.
Here are some issues to keep in mind:
DAT/EM does not support stereo through a Thunderbolt port. Some laptops do not have a display port; they only have a Thunderbolt port and a Thunderbolt docking station. When an external monitor is connected, problems include no stereo at all, stereo on only part of the display, and stereo that works one day and not the next. We simply do not support Thunderbolt.

Lower-cost computers that have a power supply smaller than DAT/EM's recommended amount (1300 to 1500 Watts) will likely have stereo display issues while running DAT/EM software. The power demands on a DAT/EM workstation add up quickly: Quadro video card, StarTech display port to DVI adapter, external USB drives, stereo glasses charger, USB hardware lock, plus any other USB devices. All of these things demand power from the computer's power supply.
The most obvious symptom of low power is a wide horizontal band of no stereo across the monitor.
The power supply in DAT/EM's recommended Dell desktop workstation is 1500 Watts. What is it in the computer you're planning to buy?
P.S. If you had stereo earlier, but now you don't, unplug your cell phone charger!
Upgrading to Windows 10 and have an older video card? Most Fermi-generation Quadro cards, such as the Quadro 4000 and 5000, do not work in Windows 10. There are two exceptions reported by our customers: One Quadro 6000 and one Quadro 2000 worked. It may be that these two cards were manufactured at the end of the Fermi-generation line and have a newer OpenGL version than the others. Despite these two exceptions, we have heard many more reports that Fermi-generation cards and older do not work in Windows 10. If you want advice on a graphics card upgrade, send your old video card model, a screen capture of Summit > Help > OpenGL, and the brand and model of your monitor to support@datem.com.

If your non-Dell computer has a built-in graphics adapter, you must disable it in the BIOS. It is not enough to turn it off in the Device Manager. Your nVidia Quadro card should be the only graphics adapter displayed in Device Manager after a reboot.
By Alissa Oder, DAT/EM Support Department
Topic 2: Trimble's Thomas Widmer Gives Advice on Image Compression
DAT/EM Support recently asked Trimble Support for advice on image compression for the images going into Trimble Inpho Match-AT, Match-T DSM, and OrthoBox software. Thomas Widmer responded, and his answer also applies well to using compressed imagery in DAT/EM Summit Evolution.
If you wondered about image compression, or if you always compress your imagery and always use the same compression factor for every image source, this advice is for you:
In general, we recommend to run uncompressed [input into Trimble Inpho products].

In case the customer needs to compress [using the JPG compression standard in "non-Big" TIF files], we recommend to use Q-values between 85-100. Depending on the image content, the user can reduce the image size between 5-20 times the original size and would not lose a lot of accuracy.

There have been studies in the 1990s where the recommendation is done to use Q-values between 90-100 to stay within the accuracy range of the original data.

Personally I would additionally take into account the image sensor type, the image content and whether the image is analog or digital. Analog images are more "blurred". Digital images are more crisp. Digital images have more detail and a larger radiometric range. Therefore I would tend to be able to use a stronger JPG compression on digital images without losing too much accuracy.

Another part is of course the image content. Images taken in desert, glaciers or other low textured areas should not be compressed too much.

By Thomas Widmer, Trimble Inpho Products Support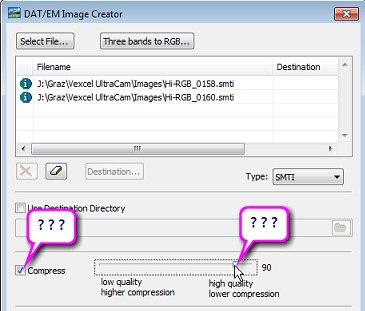 You can share this story by using your social accounts: