Tech Tip: For MicroStation Users: Custom MS_DGNAPPS Settings Do Not Work
A common complaint from our MicroStation® users is that the DAT/EM applications don't load when MicroStation starts. This can happen either for a new installation or for one that previously worked correctly. The problem is often caused by a custom setting in the MS_DGNAPPS variable.
In very old versions of MicroStation, we used to load .ma applications by adding them to the MS_DGNAPPS variable. This practice has changed. In modern versions, you should never edit MS_DGNAPPS. Instead, applications should be loaded by configuration (.cfg) files located in C:\Program Files (x86)\<MicroStation installation folder>\MicroStation\config\appl (the ...\appl folder).
There are two main reasons not to edit the MS_DGNAPPS variable:
The application you added to MS_DGNAPPS loads at the wrong time, which causes errors.
If you edit MS_DGNAPPS, it prevents any .cfg files in the ...\appl folder from being loaded. This includes the DAT/EM .cfg files placed there by the DAT/EM installation process. When you notice that DAT/EM applications aren't loaded, you might try to fix it by adding the DAT/EM applications to MS_DGNAPPS, but this will cause the timing errors mentioned in 1.
Q: Q: What should I do if I have a custom .ma file to load?
A: Load it from a .cfg file. If you want help doing this, use the existing .cfg files as examples or contact DAT/EM Support.
Q: How do I know if my MS_DGNAPPS variable is right or wrong?
A: In MicroStation > Workspace > Configuration, MS_DGNAPPS should show "Appl" next to the variable name. "Appl" means it will load applications from the .cfg files in the ...\appl folder:

If there is a custom setting in MS_DGNAPPS, it will show "User" instead. In that case, move any non-DAT/EM applications to their own .cfg files in the ...\appl folder. Note that DAT/EM applications already have a .cfg file, so you don't need to worry about them. Delete the MS_DGNAPPS variable. Clearing the load string from the variable won't reset it; you must select MS_DGNAPPS and use the "Delete" button. When MicroStation exits and restarts, it will recreate the variable as "Appl" and proceed to load from the .cfg files.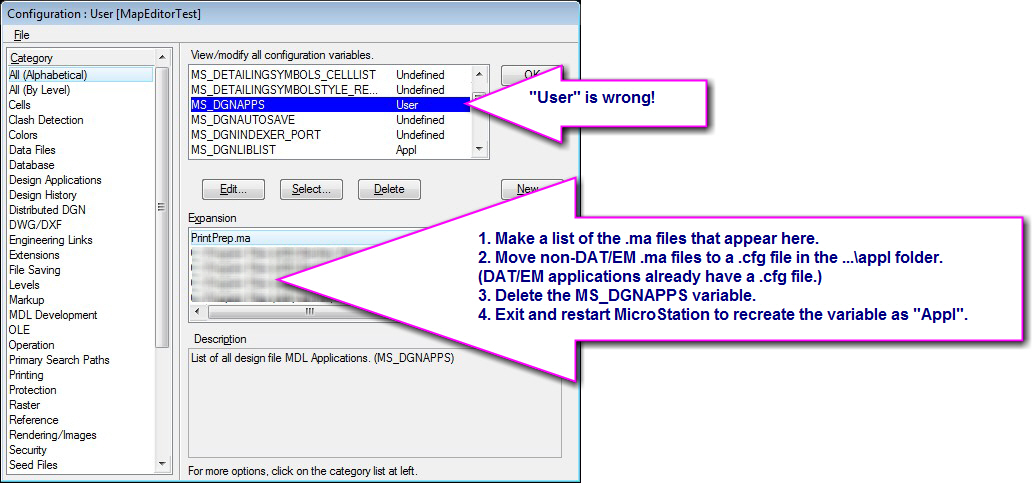 You can share this story by using your social accounts: